Farm chronicle
From the "Huebgut" to today's Hubergut in Radstadt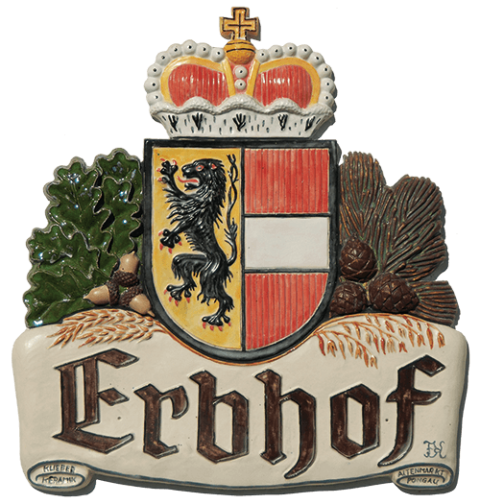 Our farm, the Hubergut, previously called the "Huebgut", has existed since the 17th century. "Hueb" was, according to ancient folklore, the name for a larger tenure. Our farm covers an area of a total of 37 hectares, of which 8 hectares are forest and 29 hectares fields and meadows. We're particularly proud of our title "Anscestral Farm", which we were awarded as the farm has been owned by our family for over 200 years.
The history of our farm
& its owners
According to Salzburg County archives an entry was made in the Parish Church of Altenmarkt in 1373 documenting the farm as "Hueb ob Creitzsall in Ennswald".
1735: Balthasar Ernst & Eva Feldnerin (purchase)
1752: Son Gottlieb Ernst (handover)
1757: Andrä Hecher & Gattin (purchase)
1793: Daughter Maria Hecher & Gatte Andrä Buchsteiner (handover)
1815: Cousin Andrä Buchsteiner & Maria Thurner (purchase)
1836: Widow Andrä Buchsteiner (sole caretaker)
1849: Son Johann Buchsteiner (handover)
1859: Widow Barbara Buchsteiner (caretaker)
1860: Josef Kocher (half ownership)
1890: Johann Buchsteiner (handover)
1934: Son Johann Buchsteiner (handover)
1970: Son Willi Buchsteiner (handover)
2007: Daughter Theresia Buchsteiner (handover)
2012: Marrige of Theresia & Sepp Ebster
The old farmhouse is around 450 years old. It was constantly renovated and upgraded by our great-grandparents.
1906: Roof truss was removed & newly constructed
1910: Interior plastering of many rooms
1948: Maids' room was vacated & the today's kitchen was added
1953: Sleeping quarters were reduced
1958: Two toilets were installed
1962: Installation of hot & cold water
1986: Renovation of the room on the first floor, installation of a shower
1970: Central heating was installed – so guests could stay in winter too
1980: Start of building of today's Hotel-Pension Hubergut
Building developement & livestock
The first barn buildings were built over 450 years ago.
1872: Conversion of manure barn to floor barn
1948: Construction of the first carriage shed
1952: Construction of the second carriage shed
1954: Purchase of the first car, construction of first garage
1957: Construction of a septic tank in front of the barn
1958: Construction of a tractor garage
1961: Reconstruction of barn: at the end of April the old barn was demolished, at the end of June hay could be stored in the new barn. On the 1st of October the stables were ready for occupany. The pig sty was converted into a workshop
1972: Construction of a 2nd garage (adjoining the barn) for a second tractor & car
1976: Sale of the last horses, conversion of the stables into a pen for young cattle, construction of a second septic tank
1981: Sale of the last chickens, the pigs were reduced to just 2 ,
2006: Sale of the last breeding animal, insemination by young farmer Sepp
2007: Construction of tractor garages & depot, installation of a carpenters' workshop, purchase of machines
2009: Construction of a pen, new construction & conversion of barn and stable building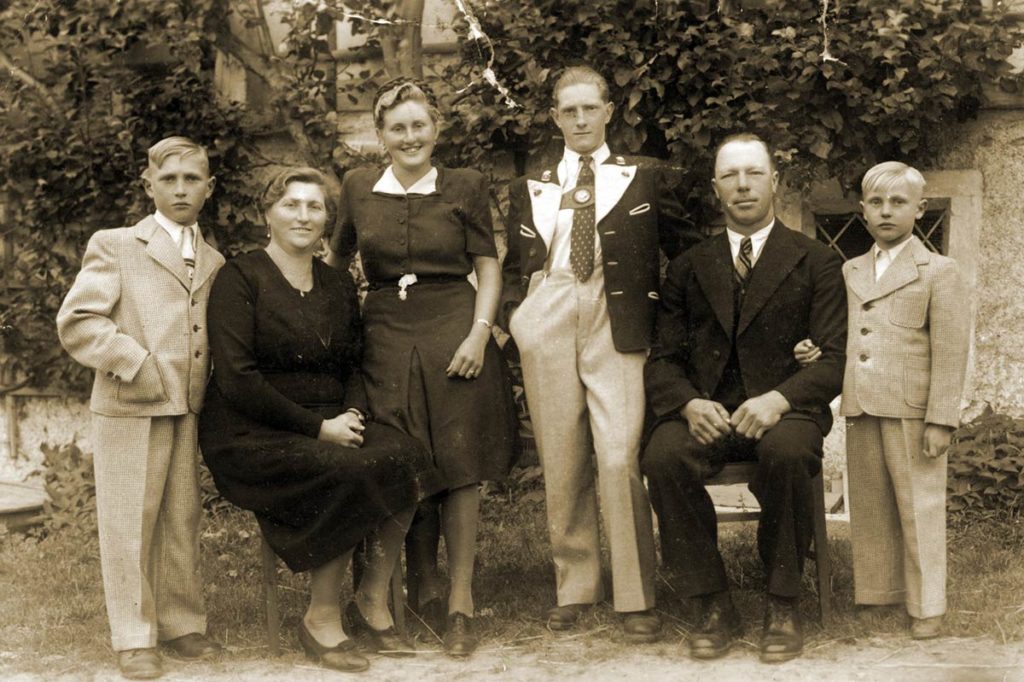 Uncle Hansi, grandma Theresia, aunty Thresi, uncle Sepp (foster son), grandpa Hans and papa Willi Buchsteiner. My father originates from the Huber Farm in Radstadt. My grandma Theresia Dax, born in Pfarrwerfen comes from the Höringbauern in St. Johann! She married my grandfather, Johann Buchsteiner, who took over the Huberhof in January 1934, on 7th May 1934. Hans still works on the farm and has the right to live here for the rest of his life.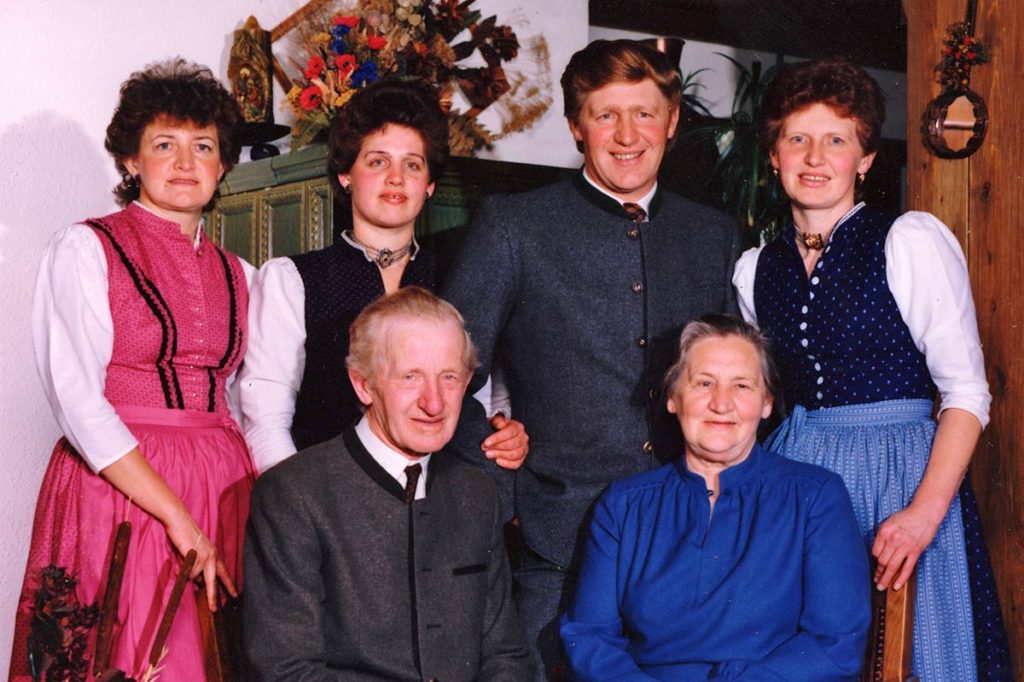 Grandpa Wastl, grandma Lisi, aunty Marlies, my mum Anni (Nani), uncle Wasti, aunty Barbara Mayrhofer. My mother comes from the Grosstaxer Farm in Radstadt. My grandfather Sebastian Mayrhofer comes from the Kasparbauer Farm. He married the farmer's daughter and farm heiress Elisabeth Walchhofer from the Großtaxer Farm in 1944.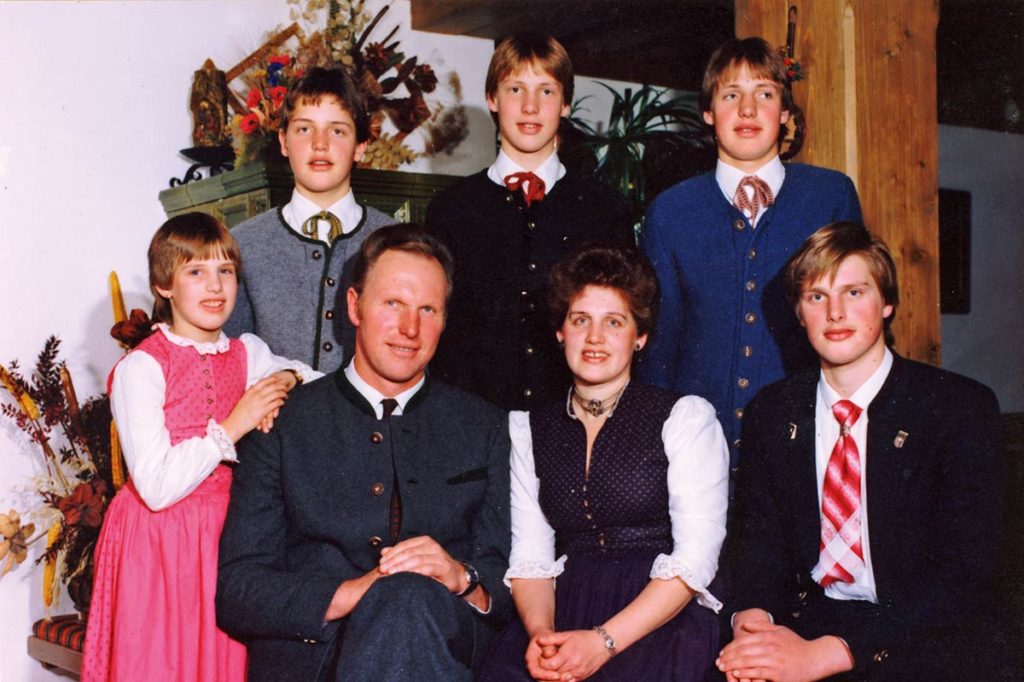 Family photo from around 1986
Theresia, dad Willi, mum Anni, brother Willi, Hannes, Thomas, Sebastian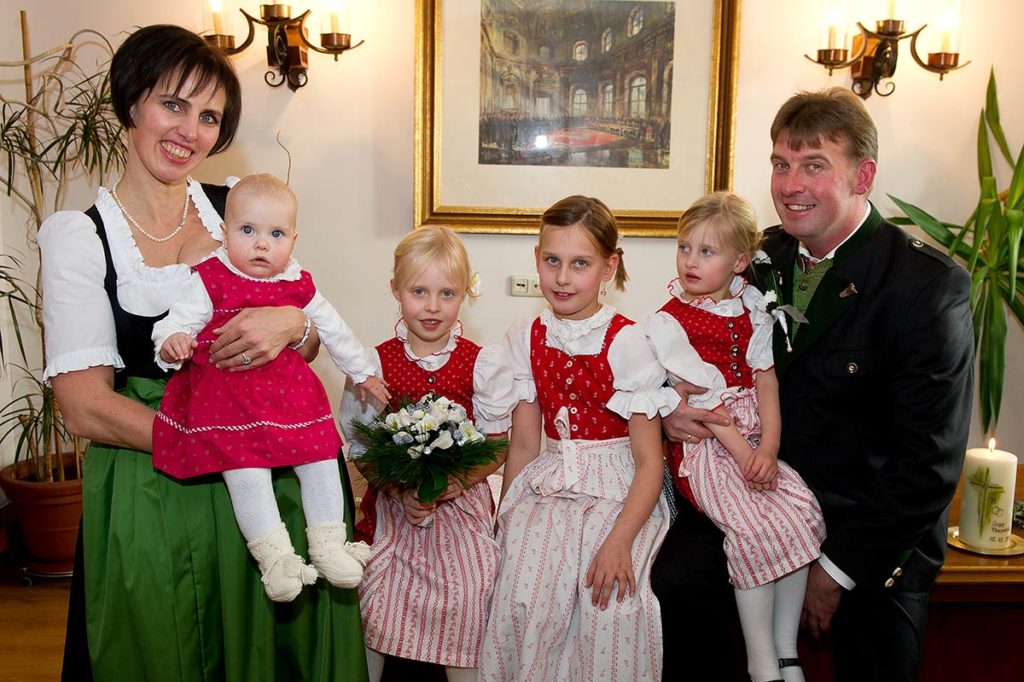 Sepp & Theresia with children